Nine Network Intern Jaques Clinton: A Truly Inspirational Story
Jaques Clinton, a senior at Cardinal Ritter College Preparatory High School and former Nine Network intern, is not your typical high school student; imparting thoughtful insights such as, "Education is one of the most powerful tools that I can use to change the world."

But Jaques was not always this way.

Following his mother's untimely death, Jacques says he went from being a "sweet, loving and well-mannered" kid to one who was "obnoxious and rude" – skipping classes, disrespecting teachers and bullying his classmates. "My future was both as shaky and as powerful as an earthquake because of the impact of my mother's death," he recalls.

With the guidance of a school counselor and the inspiration of his mother, Jaques turned a corner and began to love school again before it was too late. He also became a highly successful Nine Network intern in the fall of 2014.

Now, faced with the opportunity of attending college this fall, he says of his mother, "Every decision that I make, I make in honor of her. As I stand at the edge of the next chapter of my journey, I plan to work to continue to excel academically, and I will work relentlessly so that I can financially empower my family, serve my community, and honor my mother's life. Working at Nine Network of Public Media has helped me to expand my horizon."

To read this inspiring story, and learn how Nine Network impacts the people whose lives it touches, visit American Graduate, a Nine Network initiative to increase the graduation rate and improve youth outcomes.


"People like Jaques Clinton are going to change the world. We are proud to be part of his life." 

- Dan Shasserre, Nine Network of Public Media.
---
St. Louis Public Library Featured in Short Film
Check out St. Louis-based company Once Films' stunning video promoting the re-imagining and grand reopening of the St. Louis Public Library. This documentary-style film premiered at the Library's grand opening gala and now lives online as a web-based brand film for all to see. Holmes, Radford & Avalon is proud to have played an integral role in the groundbreaking capital campaign project to restore and reinvigorate this iconic St. Louis institution.



---
Peter and Paul Community Services: Apartments Offer Shelter for Chronically Homeless in St. Louis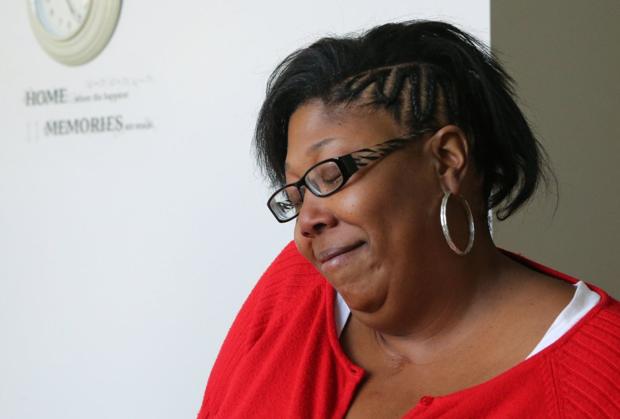 More than a month after moving in, Curesa Atkins said she still gets choked up when she opens the front door to her new apartment.

Tall windows offer a third-floor view of the Benton Park West neighborhood that Atkins recently would have seen from the other side of the glass. "It took a while for me to call it home," said Atkins, 42, who grew up in north St. Louis County. "I kept waiting for somebody to tell me to leave."

Atkins, a 42-year-old former dental assistant, said she became homeless after a dealing with series of car repairs, a change in her marital status and, eventually, the loss of her job. "It just spiraled from there, I couldn't keep up. You blow through your savings, it was just hard to find my way," she said.

The 25 men and women living in Garfield Commons will have one-bedroom apartments with a small kitchen, a bathroom and a living room with a large window. Tenants sign a one-year lease, which includes utilities and most meals. Case workers, a nurse and an occupational therapist are on staff and meet with the residents regularly. Most tenants have a physical or mental disability and have been homeless for more than a year — a circumstance defined by the city as "chronically homeless."


Read St. Louis Post Dispatch article here. 

Read St. Louis Public Radio article here.
---
Peter and Paul Community Services: 

Garfield Commons to Open This Week!

Peter and Paul have at last completed their renovation of the Garfield School in St. Louis to create a new homeless facility with the capability to provide 25 apartments for single homeless adults and assist 40 homeless and HIV-positive people annually. Staff have moved into the new offices and tenant applications are being reviewed and leases signed as future residents anxiously await their new home and a chance for independent living in this "safe-haven."

Garfield Commons will officially open with a ribbon cutting and open house to celebrate this momentous achievement on Wednesday, November 19, during National Hunger and Homeless Awareness Week. 

Open House Details

READ MORE ›› "New Homeless Facility to Open in St. Louis" - STL Public Radio
---
Jazz St. Louis Debuts New Jazz Center

The Bistro at Grand Center has completed a $10 million renovation and expansion under the guidance of Jazz St. Louis Executive Director Gene Dobbs Bradford and HRA Vice President Dan Reynolds. The new facility, which opened in early October, has been named the Harold and Dorothy Steward Center for Jazz and includes an education center with two rehearsal rooms for jazz youth programs and practice rooms where students can take lessons. The space also has a recording studio and a resource center.

The expansion also includes a 75-seat jazz café where patrons can view live main-stage performances on a large screen and the renovated bistro performance space, now named the Ferring Jazz Bistro, where the second floor balcony has been expanded, more seats were added near the main stage and the stage itself was moved to accommodate the additional seating.   

"For years we didn't have control of the facility and didn't have a lease," Bradford said. "We were sort of squatters while holding concerts, so we first needed control of the building to control our destiny.

"We hope people in St. Louis will feel proud of what we've accomplished and embrace this club as their own," said Bradford, a Webster Groves resident. "St. Louis needs to embrace its jazz culture. We have Miles Davis, David Sandborn who is from Kirkwood and Clark Terry. The region has produced a lot of great artists and we want to celebrate that."

Read Webster-Kirkwood Times article here

---
Woodhaven Awarded $100,000 Challenge Grant from Mabee Foundation
Woodhaven, publicly launched its $1.9 million "Building on Our Strengths" capital campaign on recently, and has been awarded a $100,000 Challenge Grant from the J. E. and L. E. Mabee Foundation of Tulsa, Oklahoma. Woodhaven, Columbia, Missouri, works to help adults with intellectual and developmental disabilities succeed in the community's in which they live by giving them the opportunity to do things for themselves, while maintaining a safe environment where they can thrive.

The "Building on Our Strengths" capital campaign aims to raise funds for two new buildings, an Age-In-Place Apartment Building (above left) and a Health Services and Training facility (above right), to expand Woodhaven's capacity to provide support to individuals with developmental disabilities.

READ MORE ››   Columbia Daily Tribune - Columbia, Missouri
---
St. Louis College of Pharmacy Unveils Design Plans for New Facility
Excitement continues to grow as St. Louis College of Pharmacy reveals plans for a new six-story classroom and research facility on its Central West End campus.  The $50 million dollar project will be funded in part through a $25 million Capital Campaign expected to conclude in 2016.

The state-of-the-art space supports the College's vision of being globally prominent in health care education, interprofessional patient-centered care, and collaborative research.

READ MORE ››


---
Support Dogs Exceeds Dollar Goal
Support Dogs, Inc. has surpassed its projected $3.5 million fund raising goal reaching $3.8 million in philanthropic support!  

SDI now sets its sights on building a new headquarters and training facility that will triple the size of its existing space.  The Board of Directors is moving forward with HRA on initiating Strategic Planning for Capacity Building.